Last Updated on February 2, 2022
ProLaw is one of the most popular software used in the USA by law firms starting from small to large sizes. It is a one-stop destination for all the accounting solutions for the attorneys that manage cases, documents, emails, calendar tasks, and many other tasks efficiently, which is why it is popular. You can use ProLaw on your in-house servers, but to use the software to its maximum potential, it is always recommended that you host the software on the cloud. ProLaw cloud hosting will add some extra bucks to your overall budget, but by looking at the advantages it gives, every penny you spend would be worth it.
The efficiency of ProLaw enables the user to manage the client data with so much ease that it becomes effortless for the users to deal with day-to-day challenges related to client data and manage important documents. The important dates of the cases are very well managed by the software where it keeps you updated through reminders about the important dates and hearings.
Hosted vs in-house
Before we tell you why you must move your ProLaw to the cloud, discussing the common misconceptions related to cloud and web-based software is essential. Many firm owners have a common misconception that if they move their ProLaw to the cloud, they will have to abandon their favorite practice management software in favor of a complicated web-based alternative which is clearly not the case.
There are numerous benefits of moving ProLaw on the cloud. Each and every benefit can be enjoyed by continuing with your favorite legal practice management software removing servers, and moving to the cloud by Prolaw hosting at the same time.
It's time to move ProLaw to the cloud. Talk with one of our experts about how your firm can benefit from moving to cloud computing.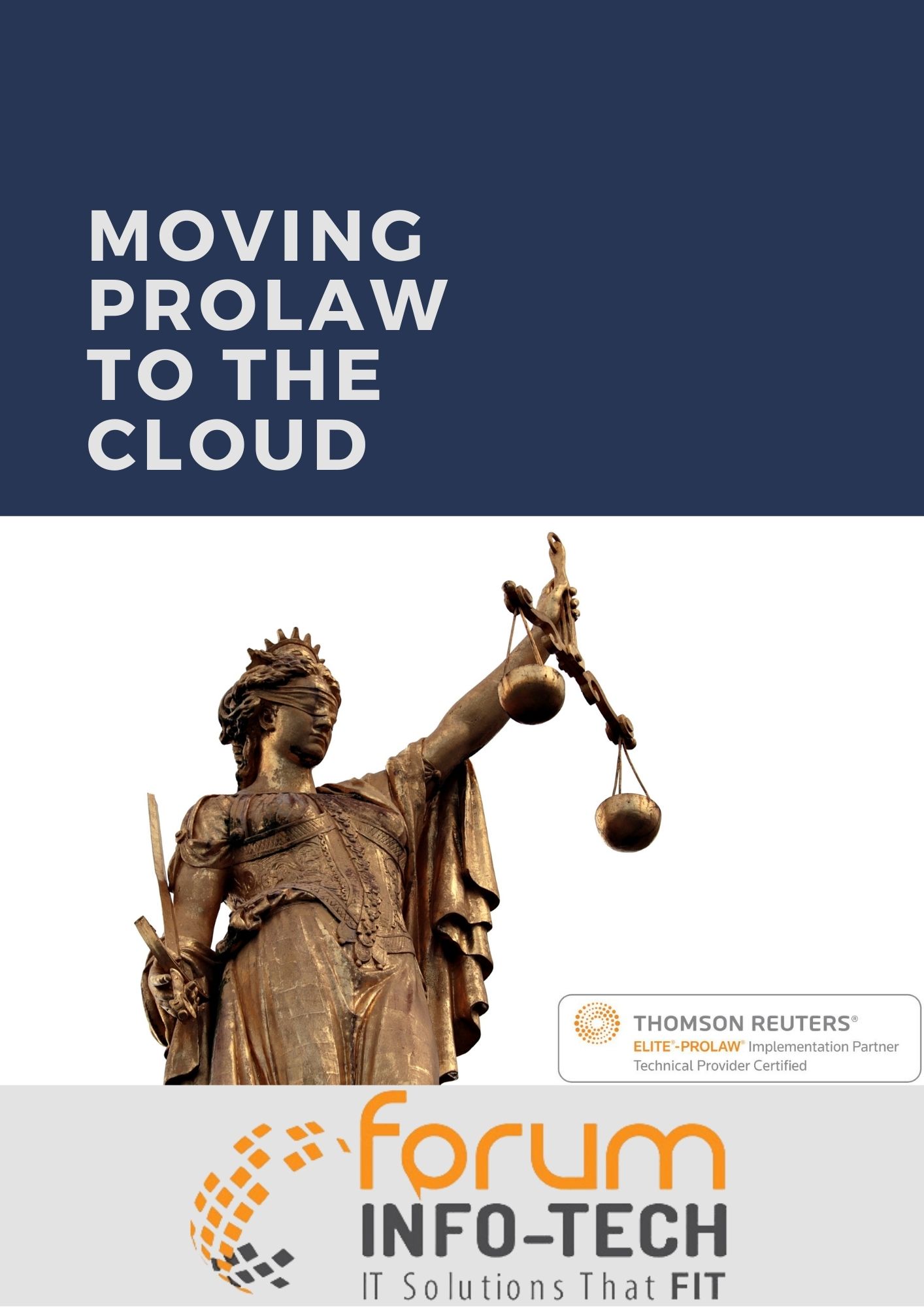 ProLaw in the cloud is improving law firms.
Read about the 12 major benefits of using ProLaw in the cloud right now.
Why should you move ProLaw to the cloud
Before finally deciding to move your ProLaw to the cloud, it is crucial to know its benefits. Moving the software to the cloud has immense benefits and advantages, and each one of them is discussed below in brief.
Private cloud hosting for ProLaw
Security
Accessible from anywhere
Absolutely trustworthy
Customizable
Economical
Private cloud hosting for ProLaw
One of the best things about ProLaw is that the usage of the downgraded web-based legal software for gaining accessibility, reliability, and security of the cloud is completely eliminated as your software is hosted in a private cloud. Apart from this, your important documents and emails are also stored in a private cloud.
Security
ProLaw cloud comes with excellent security features, making it very reliable software to use. Owning your server comes with security risks that no firm could afford, as many important and sometimes confidential documents have to be stored. If the storage is done on the cloud, it becomes extremely secure and safe.
Accessible from anywhere
When you host ProLaw on the cloud, all your employees can access the main and other software, including all the documents from anywhere and on all the devices. This becomes very beneficial for the attorneys to manage client and case data for their firms.
Absolutely trustworthy
Trust comes with security, and ProLaw software is extremely secured. Compared to the systems that have in-house servers, cloud-based infrastructures are always reliable as they are safer. The cloud infrastructures boast uptime by 99.99%, and all the technical problems are taken care of by them.
Customizable
Adding and removing resources as per your need is one of the most significant advantages of private cloud solutions, ProLaw. These resources include staff, storage, and many more. Also, a model called pay-as-you-go makes your law firm easy.
Economical
In the case of in-house servers, you always have to bear the cost of infrastructure, pay for the software, pay for an IT professional to manage the infrastructure, antivirus, software upgrades, and many more, while in the case of ProLaw, everything is taken care of by the company itself and with the concrete ProLaw support, you are always one click away from getting support from the professionals.
Are you thinking about moving ProLaw to the cloud? Talk with one of our experts about how your firm can benefit from moving to cloud computing.
Read more fantastic articles below to learn more about what ProLaw in the cloud has to offer your law firm.